ProductContent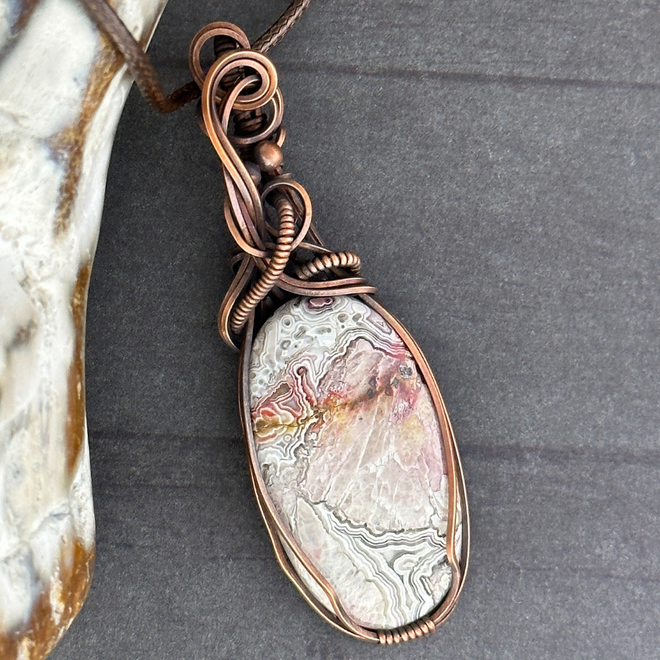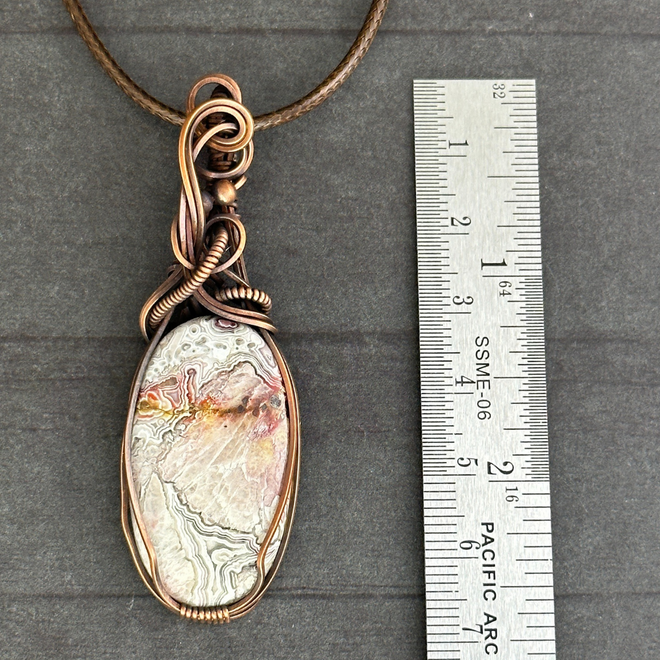 Necklace - Wire-Wrapped with Copper: Crazy Lace Agate Large Oval
Necklace - Wire-Wrapped with Copper: Crazy Lace Agate Large Oval
Product Description
Description
This hand-wrapped Crazy Lace Agate pendant holds the essence of leadership, rejuvenation and new beginnings within its bands.
Agate is a low-intensity, stable and strengthening stone. This variety promotes inner stability, security and self-confidence. It's great to wear when doing math or other highly intellectual tasks.
Wrapped by our exclusive artist, when properly cared for this 100% pure copper with patina pendant will stand the test of time and make you the envy of everyone that sees you wear it.

Includes an 18"

vegan leather waxed cord

Lead-free; nickel-safe
Pendant is 2.58"H (65.7mm) x .84"W (21.3mm)
Comes in our exclusive luxury gift box
Source: Mexico
Handmade by Moonsong by LaLańya
Includes Certificate of Authenticity

Product color may slightly vary due to photographic lighting sources!
About 
Moonsong by 

LaLańya

The night that Moonsong by LaLańya was born was a beautiful night with a big bright full moon. Creator LaLańya E Boothe was talking to the stars and her guides about how she really felt the pull to create but didn't know what path to take. One by one, several readings she'd had with her friend and Tarot reader, Rebecca, flashed through her mind, and she also saw herself wrapping crystals. While she'd already tried it and felt she wasn't good at it, at her guide's encouragement she decided to let the stones talk to her.

The next day LaLańya pulled out her old box of wire and stones and went to work letting the rocks and crystals be in control. "I was absolutely amazed by the outcome. It wasn't the mess of wire like it was in the past. It was beautiful! I'm excited to wrap the stones just to see what they are going to be. I have no ideas in my head going into it; the end result is always a surprise."

Disclaimer:

Crystals should not be swallowed, given to children under the age of 3, or access to them given to pets. These statements have not been evaluated by the Food and Drug Administration. This product is not intended to diagnose, treat, cure, or prevent any disease. Magickal Bear® and all their affiliates are not liable for any misuse, accidents, or other damages caused by products we sell.