ProductContent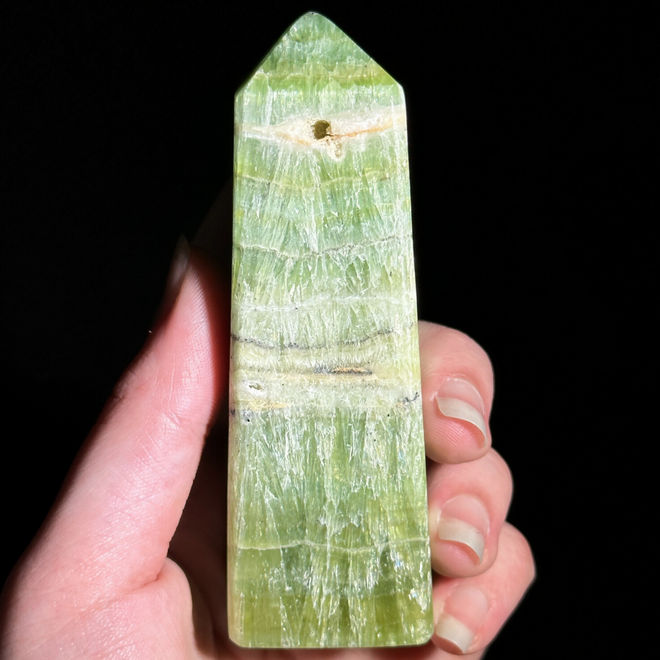 Tower - Kiwi Calcite 95.25mm
$
36.00
$33.00
You Save

(100%)
Tower - Kiwi Calcite 95.25mm
$
36.00
$33.00
You Save

(100%)
Product Description
Description
Kiwi Calcite is the perfect stone to help you relax and reconnect with nature. Its calming energy disintegrates old, stagnant patterns so that new positive ones can take their place, bringing vitality back into your life!
Its soothing green hue supports a sense of compassion for yourself and others while restoring balance within the natural world.
Use this tower as the center of a crystal grid or the focal point of your favorite space!
Origin:

 

Madagascar
Color:

 Purple/White

Size: 95.25 x 34.9mm (3.75 x 1.375in)
Weight: 206g

Any visible imperfections and/or cracks are due to natural formation.

Product color may slightly vary due to photographic lighting sources!
Disclaimer:
Crystals should not be swallowed, given to children under the age of 3, or access to them given to pets. These statements have not been evaluated by the Food and Drug Administration. This product is not intended to diagnose, treat, cure, or prevent any disease. Magickal Bear® and all their affiliates are not liable for any misuse, accidents, or other damages caused by products we sell.