ProductContent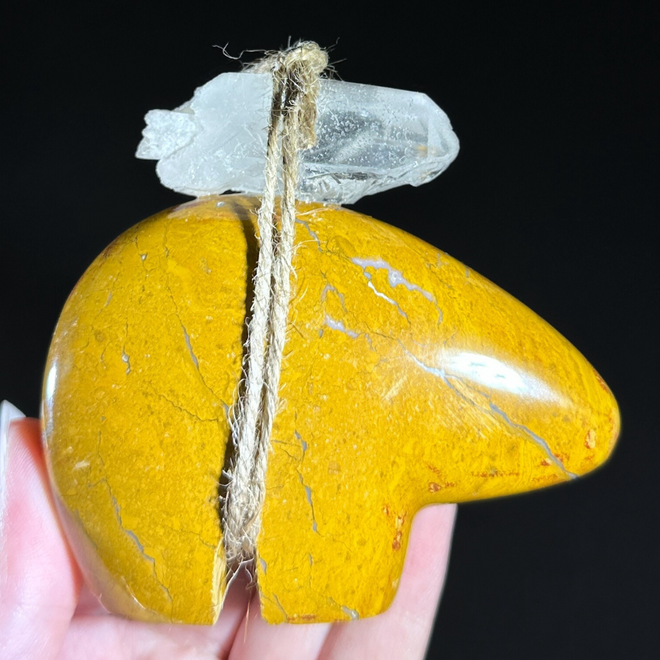 Burden Bear - Yellow Jasper 85mm
Burden Bear - Yellow Jasper 85mm
Product Description
Description
Dive into the world of emotional mastery with the incredible Yellow Jasper crystal! This gem will be your guiding light toward understanding complex emotions and giving you crystal-clear insight before making any moves.
With an innate resilience, Yellow Jasper is a true warrior, helping you navigate life's storms with strength and tenacity.
Wave goodbye to anxiety as this stone injects a spark of self-assurance and the ability to protect your personal boundaries. Plus, prepare to revel in joy and forge authentic connections with like-minded souls, all thanks to this alluring yellow gem.
Throughout life, we all experience our fair share of burdens, be it stress, worries, or emotional weight. With a personal Burden-Bearer you can experience a bit of relief, created from a fusion of healing crystals, designed to be a companion in times of need.
Atop this Burden Bear sits a magnificent Quartz point. Known as the "master healer," Quartz amplifies the energies of the accompanying crystal, making it a potent focal point for your intentions. Crafted with precision and care, our Burden Bears are lovingly wrapped in twine.
Place your Burden Bear in a prominent space—a bedside table, desk, or meditation altar where it can serve as a comforting presence. When you're feeling weighed down by life's challenges, hold your Burden Bear close, focus on your intentions, and allow its healing energy to help shoulder your burdens.
Claim this one-of-a-kind Yellow Jasper bear for yourself before someone else gets to it first!
Origin:

 

Madagascar
Color:

 Orange/Yellow

Size: 85.0 x 81.7 x 27.8 mm (3.35 x 3.22 x 1.09 in)
Weight: 199g

Any visible imperfections and/or cracks are due to natural formation.

Product color may slightly vary due to photographic lighting sources!
Disclaimer:
Crystals should not be swallowed, given to children under the age of 3, or access to them given to pets. These statements have not been evaluated by the Food and Drug Administration. This product is not intended to diagnose, treat, cure, or prevent any disease. Magickal Bear® and all their affiliates are not liable for any misuse, accidents, or other damages caused by products we sell.