ProductContent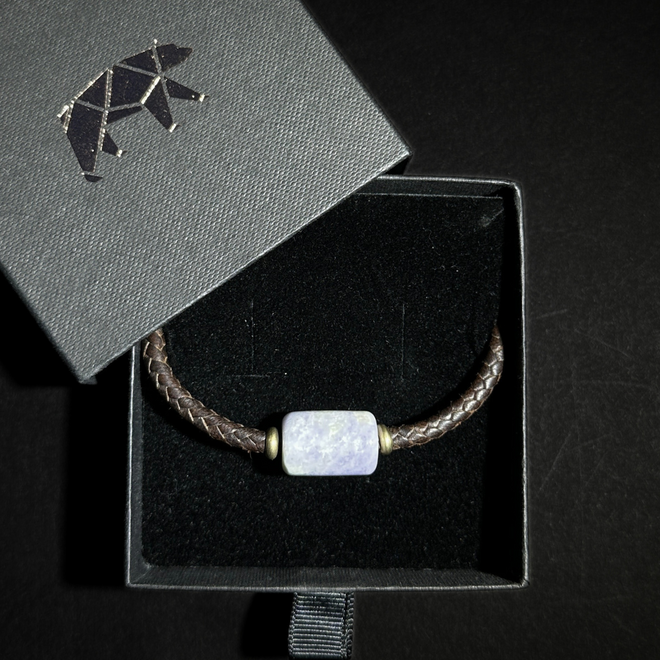 Bracelet - Lavender Jadeite Cylinder (Rare!)
Bracelet - Lavender Jadeite Cylinder (Rare!)
Product Description
Description
Lavender Jadeite emits a soothing energy that promotes a sense of peace, compassion and spiritual growth. It gently calms the mind, allowing for deep relaxation and inner harmony as you explore your personal path.
This stone showcases a delicate lavender hue, ranging from soft pastel shades to deeper lavender tones. Each piece has a unique beauty and captures the essence of serenity and spiritual energy.
Embrace the transformative power of Lavender Jadeite as it supports your spiritual journey, enhances your intuition, and invites in the flow of divine energies!
Band is a dark brown heavy-duty leather cord
Cylinder is approximately 19.7 x 13.4mm (0.77 x 0.53in)

Comes in our exclusive luxury gift box
Source: Guatemala
Handmade

Product color may slightly vary due to photographic lighting sources!
Disclaimer:
Crystals should not be swallowed, given to children under the age of 3, or access to them given to pets. These statements have not been evaluated by the Food and Drug Administration. This product is not intended to diagnose, treat, cure, or prevent any disease. Magickal Bear® and all their affiliates are not liable for any misuse, accidents, or other damages caused by products we sell.