ProductContent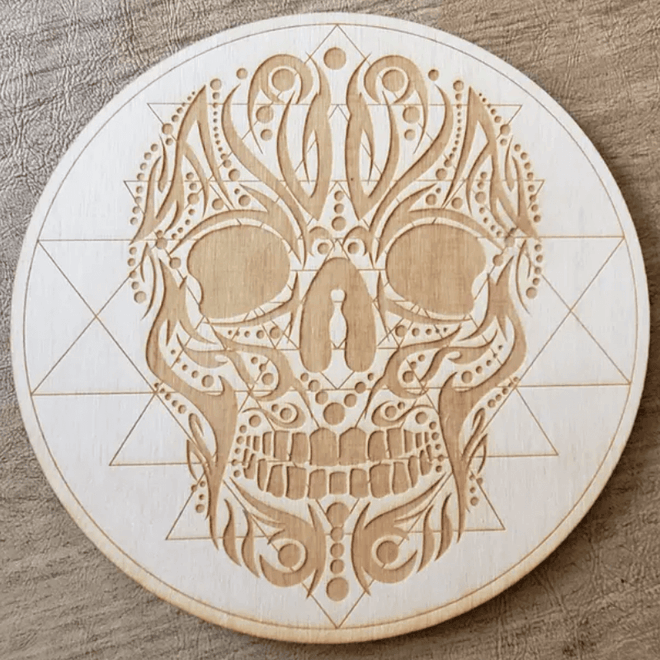 Crystal Grid 6" - Tribal Skull Sri Yantra by Zen and Meow
Crystal Grid 6" - Tribal Skull Sri Yantra by Zen and Meow
Product Description
Description
This beautiful handmade piece is a Tribal Skull Sri Yanta (Sugar Skull) Crystal Grid made out of birch wood.
Crystal grid and healing sets are groups of stones that go together for a purpose.
Sets of crystals and stones are used for ritual magickal or spiritual crystal healing purposes or with Reiki-Seichim energy work for healing.

6" in Diameter

1/4" Thick
Laser Engraved

Made in the USA

Due to its handmade nature actual details may vary from what's pictured.

Crystals not included.

Product color may slightly vary due to photographic lighting sources!
About Zen and Meow

Zen and Meow is a woman owned business in Pennsylvania. The owner, Kelly, had a retail shop in Gettysburg PA for several years but has decided to move in a different direction and focus on creating awesome products for the metaphysical community. Kelly creates wood cut jewelry as well as wood engraved crystal grids and art, all with a metaphysical focus. Zen and Meow's goal is to bring people together with tools that will help promote healing and increase spiritual awareness.