ProductContent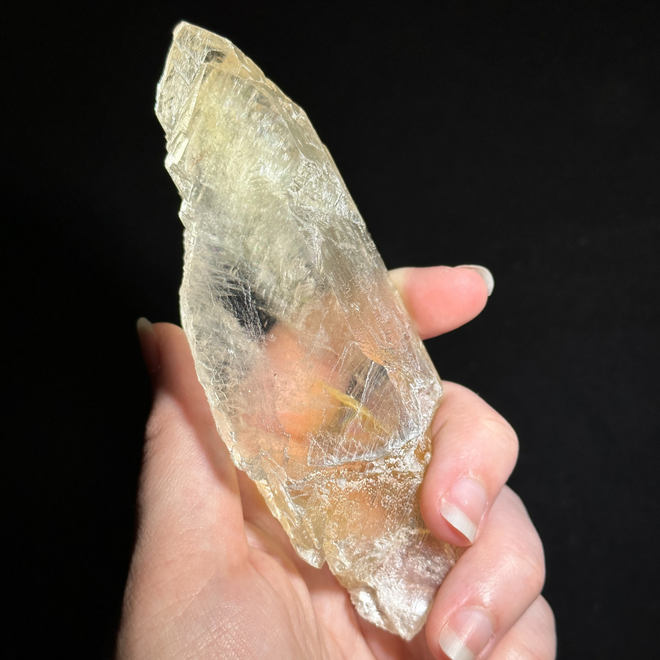 Crystal - Phantom Selenite 123.8mm
Crystal - Phantom Selenite 123.8mm
Product Description
Description
Experience the captivating beauty and profound metaphysical properties of this stunningly clear Selenite crystal, boasting a mesmerizing iron phantom within its luminous form.
As you hold this enchanting crystal in your hands, you'll discover a connection to your higher self and spiritual guides, a shield of protection, and the motivation to embrace new horizons and move forward fearlessly in life.
The combination of Selenite's calming energy and the alluring iron phantom featured in its structure makes this crystal a truly unique and transformative addition to your crystal collection. Each specimen is hand-selected to ensure its beauty and energetic resonance, making it a treasure to cherish!
Origin: Utah, USA
Color:

 White/Yellow/Clear

Size: 123.8mm x 30.7mm (4.87 x 1.20in)

Any visible imperfections and/or cracks are due to natural formation.

Product color may slightly vary due to photographic lighting sources!
Disclaimer:
Crystals should not be swallowed, given to children under the age of 3, or access to them given to pets. These statements have not been evaluated by the Food and Drug Administration. This product is not intended to diagnose, treat, cure, or prevent any disease. Magickal Bear® and all their affiliates are not liable for any misuse, accidents, or other damages caused by products we sell.